ABC News – 29th May 2018 – By Stephanie Chalkley-Rhoden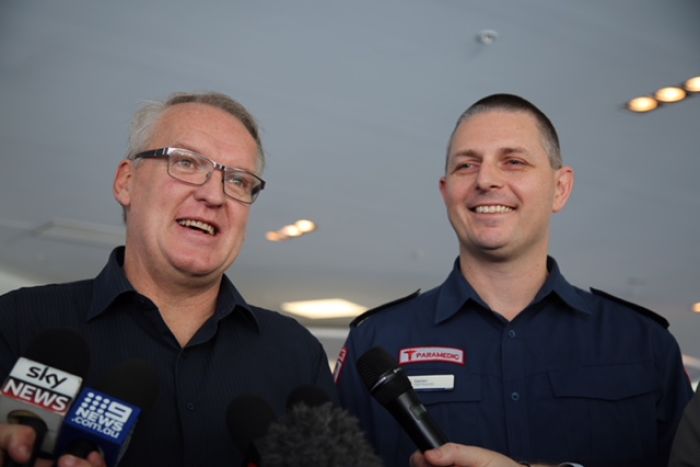 Keith Young knows that in matters of life or death, survival can come down to seconds.
While preparing dinner in the kitchen for the final time before a planned holiday with his wife in Queensland, he blacked out.
Mr Young, from Narre Warren South in Melbourne's outer east, had just suffered from cardiac arrest.
While his frantic family called triple-0 and started CPR, a neighbour's phone vibrated.
Darren, a paramedic, had just got home from work and was in his family toy room when he received the alert.
"I got on my pushbike and grabbed a pair of gloves out of my first aid kit in the garage and rode up the street to Keith's house, where his family were already [giving] CPR to Keith on the floor," he said.
"So I just assisted them and took over with more CPR until the ambulance arrived."
The phone alert that prompted Darren to act came from the GoodSAM app.
It sends an alert to registered off-duty first responders — like paramedics, nurses, doctors and surf lifesavers — to notify them that someone nearby has suffered from cardiac arrest, after a call is made to triple-0.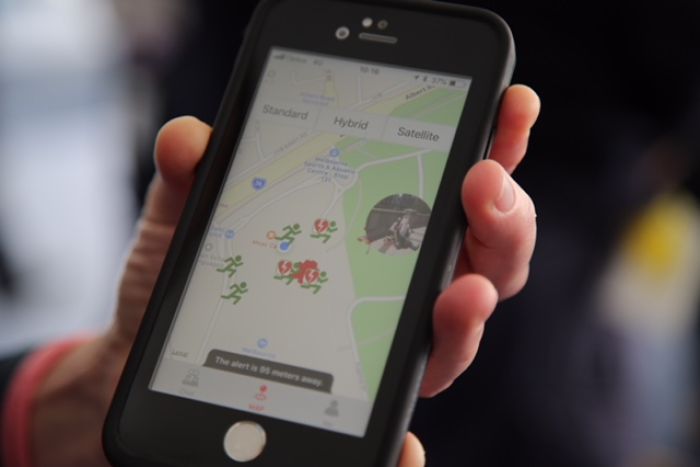 The three closest users are given the address, in the hope they can provide assistance until an ambulance arrives.
The app is being rolled out by Victoria's emergency service agencies following a four-month trial involving more than 1,100 paramedics across the state.
The agencies, including Ambulance Victoria and the CFA, are now looking to increase the pool of registered professionals.
Those taking part are volunteers.
'He was already turning grey'
Mr Young was carving meat when everything went dark.
His wife, Catherine, was in the other room when she heard a thud.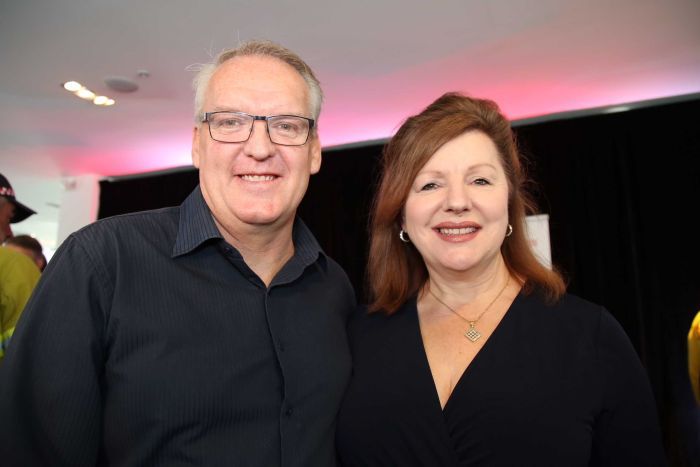 "Keith was on the floor, totally non-responsive, and he was already turning grey," Catherine said.
"And I just screamed to the children, who are adults, to call triple-0 straight away."
The family began CPR with the guidance of the operator before Darren arrived at their doorstop. They were shocked, but relieved.
"I thought, Oh my god, who is this in my house? And just his whole calm manner — he took over, he instructed us — his professionalism brought me down to a calmer level," she said.
Mr Young remembers none of it.
"But I know from putting the story together after the fact … that the relief Darren gave to my family, I just can't thank him enough," he said.
The ambulance arrived four minutes after Darren, who acknowledged his role but credited Mr Young's survival to his quick-thinking family.
Ambulance Victoria CEO Tony Walker said the GoodSAM app was designed for incidents like cardiac arrest or choking, when the first few minutes were critical.
"We know there's a 10 per cent reduction in survival for cardiac arrest for every minute you don't have CPR or defibrillation," he said.
"We're getting to cases more quickly … but to get an ambulance to someone in those first two minutes of cardiac arrest is almost impossible, so we rely on the community to be able to provide that response for us."
Victorian Premier Daniel Andrews said the trial had been a great success.
"Rolling this out more broadly, I think, is going to do wonderful things to save lives and to change lives," he said.
Mr Young has since recovered and says he's now approaching life with "a big smile".
"I get up and have breakfast and then look at the day," he said.
Footnote:
GoodSAM – A community of lifesavers
Operating Internationally, GoodSAM (Good Smartphone Activated Medics) is the world's most advanced emergency alerting and dispatching platform. The app allows alerters to dial the emergency services, and at the same time notify nearby medically qualified responders of a medical emergency. By alerting responders of an emergency, GoodSAM connects those in need with those who have the skills to provide critical help before the emergency services arrive.
We are saving lives in the Victorian community. Join us: download the GoodSAM Alerter app today.
When signing up as an GoodSAM Alerter, you don't have to worry about anything. Simply download the app from the App Store or Goggle Play and register, press the red "Emergency" button when the help is required. The GoodSAM Alerter app would then call the emergency services for you, notify your emergency contact if you confirm the incident is related to you and alert the three nearest Responders simultaneously.
Emergency Medical Response is a registered Victorian GoodSAM organisation since 2015 and our volunteers are GoodSAM responders.
Read the original article at:
http://www.abc.net.au/news/2018-05-29/good-samaritan-smartphone-app-saving-lives-in-victoria/9810544