Need medical assistance, we're here to help!
EMERGENCY RESPONSE:
Call 000 or use your GoodSAM Alerter app.
Emergency Medical Response GoodSAM Responders now number over 160 responders across Victoria.
To talk to a EMR Vehicle On the Road: Use CB Radio Channel: UHF12
Emergency Medical Response is a Privately Held FREE Volunteer Community Pre-CERT/Ambulance Emergency Medical Care Service and local provider of Event First Aid, Fire and Stand-by Emergency Medical Response Services. We are equipped to respond to cardiac and respiratory emergencies and provide FREE assistance to calls for help from community members in areas surrounding Bealiba, Dunolly, Moliagul, Tarnagulla, Emu, Archdale, Natte Yallock and Colac/Elliminyt as well as across Victoria by EMR GoodSAM Responders.
In a life threatening or time critical Medical Emergency please call: 000 or 112 from your mobile for an Ambulance or use your GoodSAM Alerter as soon as possible for FREE Pre-ambulance Emergency Care from Emergency Medical Response GoodSAM Responders (if available) while waiting for your Ambulance to arrive.
Nearly thirty thousand Australians will die of cardiac arrest each year
The chain of survival:-
Early intervention and recognition
• Recognise that the person has collapsed unconscious & is not breathing (the definition of Sudden Cardiac Arrest)
Early access and calls for help
• Activate emergency services – Call 000 or directly alert nearby responders to the EMERGENCY using your GoodSAM Alerter Smartphone app. The GoodSAM Alerter will simultaneously dial Emergency Services.
• Yell loudly for help around you, i.e. to locate the nearest automated external defibrillator (AED), and help doing CPR
Early CPR
• Start chest compressions — hands-only CPR — don't have to do mouth-to mouth any more. 1/3 of the body's depth (50 mm max)
• Push hard and fast in the centre of the chest (between the two nipples)
• 100-120 compressions per minute (to beat of Stayin' Alive by Bee Gees), uninterrupted, or 30 compressions followed by 2 breathes until the defibrillator pads (AED) are attached and ready to use
• Good CPR pushes the blood around the body and to the brain and prevents it dying
• Swap operators or responders every 2 minutes or every 5 sets of 30 compressions.

Rapid defibrillation
• The AED is a small device (weighs not much more than a 2 litre bottle of milk), is fully portable & is easy to operate (provides simple verbal step-by-step instructions to follow).
• It won't shock someone unless they are in cardiac arrest (unconscious pulseless VT or VF)
• Attach AED pads to chest & the machine will tell you exactly what to do
• Push the big button to shock heart to restart it, then continue CPR immediately
Effective advanced care life support (the part done by Ambulance Victoria MICA and ALS paramedics)
Integrated post-cardiac arrest care (the part done by Maryborough, Bendigo, Ballarat and Melbourne hospitals)
Vital Signs
Vital Signs are used to measure the body's basic functions. The normal ranges for a person's vital signs vary with age, weight, gender and overall health. There are four primary vital signs: pulse (heart rate); breathing rate (respiratory rate); blood pressure and body temperature.


Normal human body temperature is: 36.2 – 37.6 °C, with 37°C being stated as the average normal temperature.

Blood Pressure Chart By Age
Blood pressure changes from minute to minute and is influenced by posture, exercise, stress or sleep, which is why the conclusion about having high blood pressure should not be based on one reading.
The proper diagnosis of high blood pressure is done over time and on the basis of several readings. Therefore, slightly higher blood pressure during one reading does not mean that you suffer from high blood pressure.
However, if your blood pressure is higher than normal during multiple readings, you should do something about your lifestyle choices. Afterwards, your doctor will prescribe suitable medications.
In case your blood pressure remains higher than 180/110 during a repeated reading after several minutes, you should visit your doctor as soon as possible.
---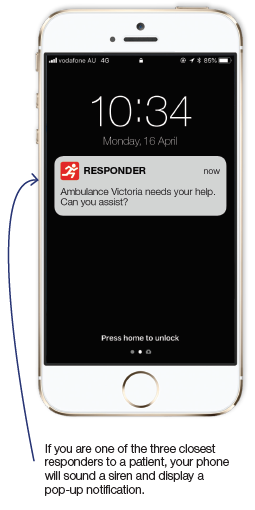 Ambulance Victoria needs your help.
Can you assist?
Since the launch of Ambulance Victoria's GoodSAM program, Triple 0 now also has access to over 2,000 existing privately registered GoodSAM Responders registered in Australia and alert them to their Triple 0 event.
It's very important to let all Victorians know that Ambulance Victoria are only using the GoodSAM Responder app. This means we still need your help to let all your friends and family know that they need to download the GoodSAM Alerter app and register.
So if they witness an medical emergency or need to get medical help quickly, they can just open the app, press the EMERGENCY (Call for Help) button and activate both Triple 0 services and their three nearest GoodSAM Responders without the delays of going through ESTA services first.
Emergency Medical Response is ready to respond to any type of local incident and provide the Emergency Medical Care needed until our handover to Rural Ambulance Victoria for transport to Hospital. We don't listen to radio scanners or chase after incident reports on the internet. If you need help or see an accident that requires medical assistance call: 000 or 112 from your mobile for an Ambulance or use your GoodSAM Alerter.
Ambulance Victoria provides pre-hospital care for patients experiencing medical emergencies and is also the only organisation in Victoria permitted to provide Emergency Medical Transport to Hospital by road and air.
When someone has a medical or traumatic event that affects his or her ability to breathe or heart to function, seconds count. Paramedic response times varies around Central Goldfields Victoria (from minutes, to over an hour!). Maryborough has some of the fastest times with 50% of immediate life threatening incidents beings responded to within 13 minutes; but even 13 minutes could be too late in such circumstances.

Basic life support while awaiting the emergency services saves lives! There are thousands of "Good Samaritans" around the world with these life saving skills – there might be someone less than a few hundred metres from you now who could help – if only they knew that help was needed. That's where the GoodSAM App comes in … download the GoodSAM Alerter from your App Store or Google Play now and register. The GoodSAM Alerter can be used right across Australia and even while overseas. The app not only dials emergency services but notifies nearby medical responders.
Emergency Medical Response is a registered Victorian GoodSAM organisation since 2015 and our volunteers are GoodSAM responders. EMR GoodSAM Responders now number over 160 responders across Victoria. If you are a doctor / nurse / paramedic / first aid trainer / first aider, then please download the GoodSAM Responder App and register today! If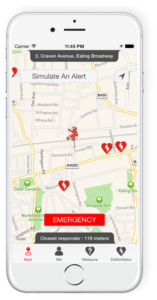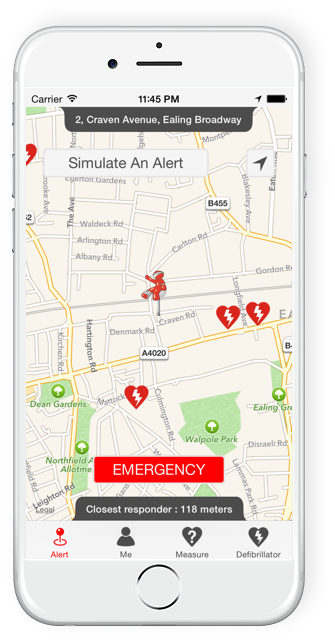 you are not, then please download the GoodSAM Alerter App – we hope you never need us!
When signing up as a GoodSAM Responder, please select your organisation if it is listed, if it's not, select Australia: Victoria – Emergency Medical Response and we will verify you; You can always change your organisation in the future using the GoodSAM website.
When signing up as an GoodSAM Alerter, you don't have to worry about anything. Simply download the app and register, press the red "Emergency" button when the help is required. The GoodSAM Alerter app would then call the emergency services for you, notify your emergency contact if you confirm the incident is related to you and alert the three nearest Responders simultaneously.
Our area of expertise is in pre-hospital emergency care and our crew of volunteer responders work under the direction and guidance of our in-house PAEIMA accredited Extreme Sports Medic & EMT-Advanced Care Technician. All volunteers are covered by our own Voluntary Workers Personal Accident Cover. A volunteer reimbursement policy is also in place to ensure that our Volunteers do not incur "out of pocket" expenses in their volunteering role.
As a local rural organisation ourselves, we know how hard it is for rural event organisers to find all the money needed to run events and we are more than happy to provide First Aid Coverage and Stand-by Emergency Medical Response Services coverage at Market Days or Street Festivals from as little as $242.00 inc. GST / day for low risk events (subject to availability). We are also available ON-CALL for any Emergencies.
From Market Days, Music Festivals, Car Rallies, Sprints, Cycling, Dirt Drags or Motocross events, Emergency Medical Response is ready to respond to any type of incident and provide the Emergency Medical Care needed until our handover to Rural Ambulance Victoria for transport to Hospital.
Emergency Medical Response have provided 24 hour overnight Event First Aid, Fire and Stand-by Emergency Medical Response Services over three days on site for Chopped at Newstead for their last 5 events.
Our Event First Aid Services now also cover, Stawell Burnout Comps, The Ballarat Swap Meet, The Wimmera Machinery Field Days, The Royal Geelong Show, an iconic four day event as well as the Stawell Gift, Australia's richest footrace held over the Easter long weekend.
Other annual events attended by Emergency Medical Response include the Ballan Autumn Festival, Rokewood Rodeo & Country Festival, Victorian Goldfields Medieval Faire, Eddington Sprints, Bridgewater Triathlon and the Lions Inglewood Alive festival.
While we operate as a privately held business in order to maintain our vehicles and medical supplies, we still need help from the community to keep our Community Response vehicles on the road.
If we've helped someone you know, or if you simply would like to support our FREE Volunteer Community Pre-CERT/Ambulance Emergency Medical Care Service, please click on the Donate button below and show your support!
EMR receives no government or shire funding and is funded solely from the proceeds of Event Services, First Aid Training, the sale of First Aid Kits and Defibrillators, and critically, the generosity of people just like you!