To talk to a EMR Vehicle At a Event: UHF12.
Emergency Medical Response provides Event First Aid and Stand-by Emergency Medical Response Services as well as First Aid Training. We are equipped to respond to cardiac and respiratory emergencies.
We provide Public First Aid Training in Northcote, Laverton North, Bendigo, and Ballarat (use our First Aid Public Booking Calendar to book), One-to-One Training, On-Site or In-Workplace Training anywhere in Victoria or Tasmania and Specialised Upskill Training to suit your requirements.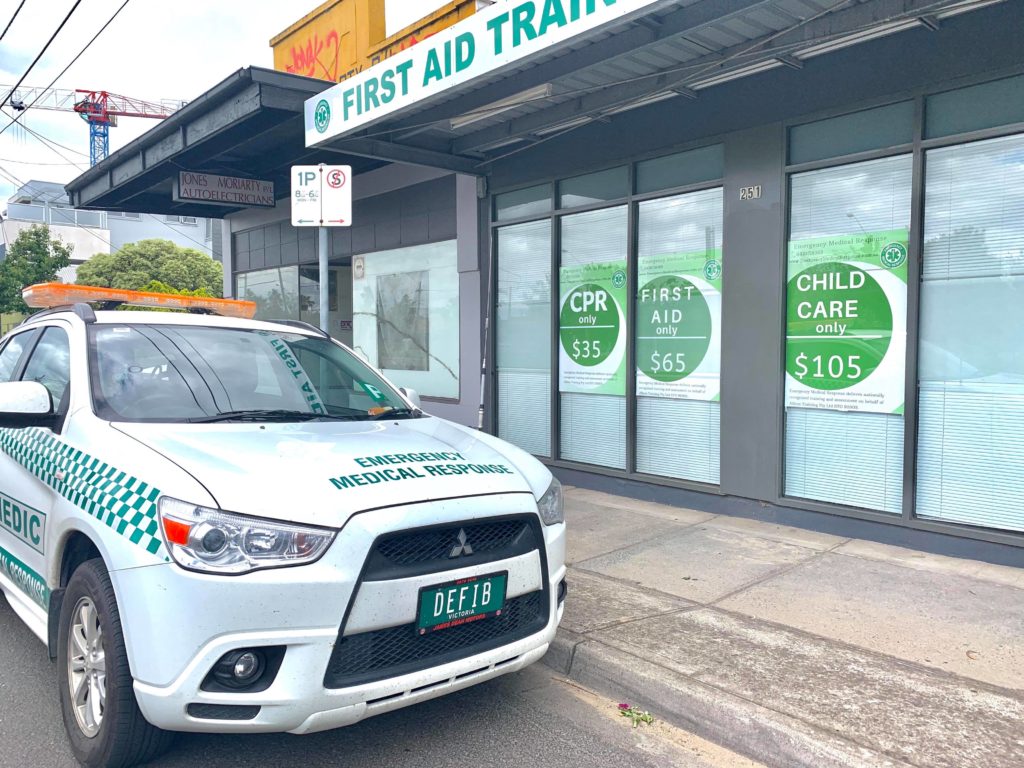 Emergency Medical Response
Event First Aid Services: 2/3 Everaise Ct, Laverton North VIC 3026
First Aid Training Centre: 251 St Georges Road, Northcote VIC 3070
Rural Event First Aid Services: 44 Reeces Road, Bealiba VIC 3475

Telephone contact: 0438 718 369
Email contact: tomaczel@gmail.com
To talk to a EMR Vehicle At a Event: UHF12
In a life threatening or time critical Medical Emergency please call: 000, or 112 from your mobile, for an Ambulance.
Event First Aid Services
Our Event Services operate from Laverton North and Bealiba in Central Victoria. We provide Event First Aid and Medical Services, tailored to the requirements of each individual event.
Our resources include:
AHPRA registered Paramedics
PAEIMA accredited Event Medics and Emergency First Responders;
The latest equipment, including oxygen therapy kit, defibrillators, stair chairs, ECG's and stretchers;
Mercedes-Benz Sprinter stretcher capable Ambulances and 4WD First Response vehicles;
Road Motorcycle and Trail Bike First Response vehicles.
Our team can work at a range of different events and provide a range of different services. This helps reassure your spectators and participants alike just by being on-site and when necessary administer medical care and even save lives.
We provide more than "first aid". Our team is trained to manage a range of medical scenarios – from basic first aid to complex clinical interventions. Our medics will therefore manage many medical conditions on-site which reduces the number of people being transported to hospital for medical attention.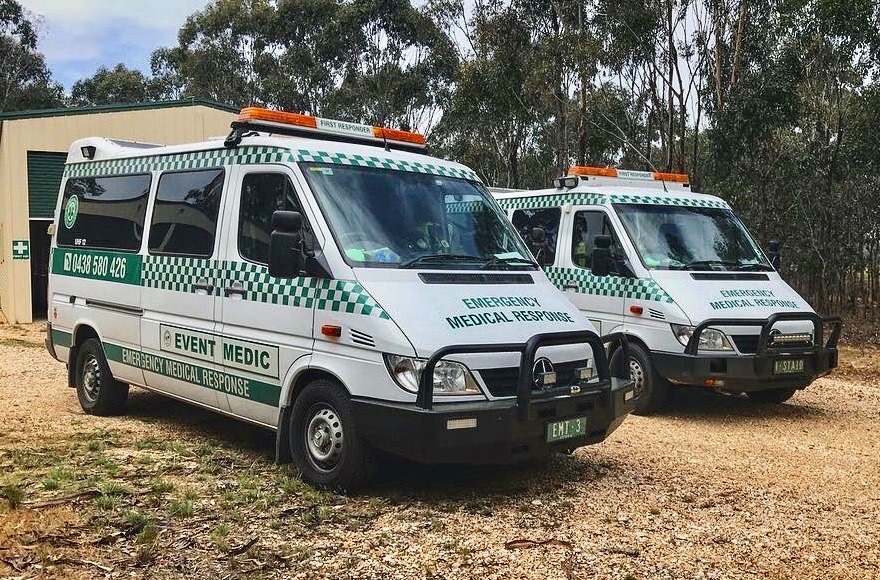 What types of Events do we provide Event First Aid Services Cover to?
Emergency Medical Response provides Event First Aid services to any event no matter how big or unique.
Events that EMR provide Event First Aid solutions to include:
Sporting Events
Athletic Meets
Corporate Events
Sick Bay Coverage
School Fetes and Carnivals
Conferences
Concerts & Music Festivals
Community Events
AGMs
Motorsport Events
Movie/TV Productions
In fact, if there is a Event First Aid need – EMR has you covered with a simple phone call.
How do I book EMR Event First Aid Services for my event?
It's easy, our pricing is on our Events First Aid Services website page and you call us any time on 0438 718 369, or email your Event First Aid requirements to: tomaczel@gmail.com
We carry $20 million Professional Indemnity / Medical Malpractice and $20 million Public and Products Liability insurance coverage.
Base Location:
Emergency Medical Response
44 Reeces Rd, Bealiba VIC 3475
To talk to a EMR Vehicle At a Event: UHF12