Heart disease is the number one killer in Australia, with over 33,000 Australians affected by cardiac arrhythmia each year.
In a healthy heart, normal blood flow is guided by electrical pulses given off by the nervous system. The defibrillator monitors these pulses and can detect any arrhythmia's (or abnormal rhythms in the heart beat), emitting a strong current each time one occurs to put the heart back into a normal pace. When used within the first 3 minutes of an attack a defibrillator can increase chances of survival from 5%, to 70%.
Sudden Cardiac Arrest (SCA) is the leading cause of death in Australia with 25 times more people dying of SCA per year than the national road toll. For every minute that passes without defibrillation, the chance of survival reduces by 10%. Having a defib on hand at your workplace or club can make all the difference. Data recently released by the Heart Foundation shows the CENTRAL Goldfields Shire had the highest rate of heart attack in Victoria from 2007-08 to 2011-12, with an average of 17 heart attacks per 10,000 persons.
In a life threatening or time critical Medical Emergency please call: 000, or 112 from your mobile.
The chain of survival:-


Early intervention and recognition
• Recognise that the person has collapsed unconscious & is not breathing (the definition of Sudden Cardiac Arrest)
Early access and calls for help
• Activate emergency services – Call 000 or 112 from your mobile.
• Yell loudly for help around you, i.e. to locate the nearest automated external defibrillator (AED), and help doing CPR
Early CPR
• Start chest compressions — hands-only CPR — don't have to do mouth-to mouth any more. 1/3 of the body's depth (50 mm max)
• Push hard and fast in the centre of the chest (between the two nipples)
• 100-120 compressions per minute (to beat of Stayin' Alive by Bee Gees), uninterrupted, or 30 compressions followed by 2 breathes until the defibrillator pads (AED) are attached and ready to use
• Good CPR pushes the blood around the body and to the brain and prevents it dying
• Swap operators or responders every 2 minutes or every 5 sets of 30 compressions.

Rapid defibrillation
• The AED is a small device (weighs not much more than a 2 litre bottle of milk), is fully portable & is easy to operate (provides simple verbal step-by-step instructions to follow).
• It won't shock someone unless they are in cardiac arrest (unconscious pulseless VT or VF)
• Attach AED pads to chest & the machine will tell you exactly what to do
• Push the big button to shock heart to restart it, then continue CPR immediately
Effective advanced care life support (the part done by Ambulance Victoria MICA and ALS paramedics)
Integrated post-cardiac arrest care (the part done by Maryborough, Bendigo, Ballarat and Melbourne hospitals)

Three SCHILLER AEDs to choose from !
Utilising SCHILLER patented Multipulse Biowave® advanced defibrillation pulse technology. SCHILLER AG has a wide range of defibrillators available to suit any cardiac emergency. Whether you require an Automatic External Defibrillator (also known as Public Access Defibrillator) for your home, club or workplace, or you are after an Emergency Defibrillator with a number of monitoring parameters, EMR and SCHILLER have you covered (see below to order).
SCHILLER FRED easy Defibrillator
The semi-automatic defibrillator, FRED® easy, makes resuscitation even simpler and more effective thanks to the efficient and myocardium-saving defibrillation impulse called Multipulse Biowave®. Independent studies have shown that MPBW causes much fewer ST alterations in the ECG and triggers significantly less CK and myoglobin in the blood. This reduced myocardium damage increases the chance of survival especially in ischemic hearts.
The FRED easy AED features include:
Extremely gentle defibrillation energy using Multipulse Biowave® (biphasic pulsed defibrillation impulse, patented)
Easy to operate
Quick charging time: < 10 seconds
User-friendly LCD screen (text instructions, ECG curve optional)
Visible and audible text instructions
Standard energy setting or other energy values freely configurable
ECG, voice and event recording
High performance Lithium cell or NiCd rechargeable battery
Set of pre-connected Adult Pads (disposable)
1 x LiMnO2 Lithium Battery
Carry Bag
SD card
Metronome
5 Year (60 months) Warranty on defibrillator unit
ARTG Number: 107242
---

SCHILLER FRED easyport Defibrillator – Discontinued
A Swiss Precision Masterpiece: This discontinued external defibrillator was so small and light that it fits in every coat pocket and every doctor´s bag, and still meets the necessary requirements of a modern AED (Automatic External Defibrillator). The FRED Easyport AED is the smallest non-implantable defibrillator in the world. Easyport uses a very effective, myocardium-saving energy emission called Multipulse Biowave. In four years of trials and clinical application, this biphasic defibrillation impulse has proven to be extremely effective at energies of only 90-150 joules. Independent studies have also shown that MPBW causes fewer ST alterations in the ECG and triggers significantly less CK and myoglobin in the blood. This reduced myocardium damage increases the chance of survival, especially for ischemic hearts.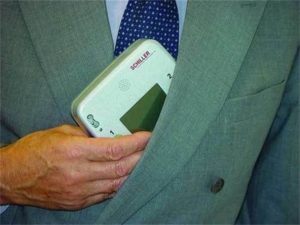 The FRED® easyport AED features include:
Ultra light – only 490 grams (incl. batteries)
Ultra small – 133 x 126 x 35 mm (l x w x h)
High-resolution LCD
Biphasic pulsed defibrillation impulse (Multipulse Biowave® )
Configurable adult and pediatric energy settings according to standard values
Automatic switch to pediatric energy level, when pediatric pads are plugged in.
Set of disposable defibrillation pads for adults (2.155056)
2 x LiMnO2 battery (2.230292) – one for unit and one spare
Carrying Bag (2.156047)
Mini SD memory card (3.940004)
5 Year (60 months) Warranty on defibrillator unit
ARTG Number: 107242
Proceeds from the sale of EMR Defibrillators help fund our FREE Community Emergency Medical Response Services.
What you get are the best TGA Approved Defibrillators (see Certificate below) in Australia – top quality, easy to use & essential for an cardiac emergency !!
Tom says, "As a Paramedic at Emergency Medical Response, I carry a SCHILLER FRED easyport Defibrillator in my clinical bag everywhere I go due to its extreme small size and weight."
Note: All EMR SCHILLER AEDs (Defibrillators) are GST Exempt Under GST Act Schedule 3 and subsection 38-45(1) Exemption Code GSTE=B1 and come with a 5 Year (60 months) Warranty from the date of your order. Emergency Medical Response are a Authorised InterMed Medical Pty Ltd distributor.
Manual mode option (for Paramedics and Doctors) and restocking consumables are also available from EMR.
---

SCHILLER FRED PA-1 Defibrillator

BY LIFTING THE DEVICE COVER, THE FRED PA-1 STARTS UP IMMEDIATELY
Once opened, the FRED PA-1 guides the rescuer step-by-step during the entire resuscitation process. Dedicated to public access, SCHILLER's latest defibrillator, the FRED PA-1 has been designed so that even untrained users can save lives.
The FRED PA-1 is available either as semi-automatic or fully automatic device. In its automatic version, the FRED PA-1 delivers the shock without any action of the rescuer. In its semi-automatic version, the FRED PA-1 prompts the rescuer to deliver the shock by pressing the shock button.
Defibrillation, in more simple terms, is the act of delivering electrical energy to the heart in order to restore a proper heart rhythm. In an emergency situation, such as cardiac arrest, a defibrillator in combination with well-performed chest compressions is the only therapy that can save a patient's life.
No Delay
When you lift up the device cover, the FRED PA-1 starts up immediately. The electrodes are pre-connected: apply them to the patient's chest and let the FRED PA-1 guide you.
Shock Delivery possible as soon as a shock is recommended
Resuscitation Guidelines emphasise the importance of minimising the time-to-shock after Cardio Pulmonary Resuscitation (CPR). In order to reduce the hands-off time (time while no CPR can be performed), the FRED PA-1 features a fast analysis system that systematically pre-charges the correct energy so that the shock can be delivered as soon as it is recommended.
Ease of use: interface with 1-2-3 steps
Not only is the FRED PA-1 intuitive with simple 1-2-3 steps, but it also features spoken instructions and clear imagery that also guides the user through the process.
"REPEAT" Funtion
Should you have missed information given by the device, don't worry: just push the "Repeat" button to listen again to the last instruction.
Pre-connected electrodes for faster application to the patient's chest
The electrodes are pre-connected: apply them to the patient's chest and let the FRED PA-1 guide you.
Automatic self-tests for detection of electrode expiration and battery capacity
The FRED PA-1 automatically performs regular self-tests and indicates whether or not the device is ready for use.
Clear Operability Indicators
When a check is necessary, the FRED PA-1 provides warnings: acoustic signals as well as LEDs indicate the state of the device and the actions that have to be taken (replacing the battery, the electrodes…).
Trilingual
Perfect for an international environment. The three available languages can be customised at the time of order.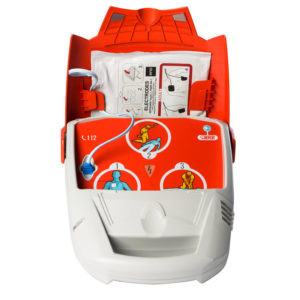 IT'S THE DETAILS THAT MAKE THE DIFFERENCE
Used anywhere
With its high IP rating (IP55-protected against dust and water projection), the FRED PA-1 withstands even unfavourable conditions.
Data Management
The FRED PA-1 can store up to 2 hours of intervention data, including 500 events. Using a simple SD card, the retrieval of the intervention data as well as the software update are very easy to perform.
Extended Warranty Period, up to 10 Years
SCHILLER provides peace of mind with up to 10 years of warranty—in the case of a warranty, the device is replaced with a new one.
Ready when you need it
The FRED PA-1 has a long battery life (6 years) in order to be ready the day you need it. Battery level is checked during the self-test and a LED warns of low battery level.
Electrode Shelf Life Check
Thanks to a highly innovative feature, the device is able to determine when the shelf life has expired and prompts the user to replace the electrodes.
For all types of Patients
Used with adult or children electrodes, the FRED PA-1 automatically recognises the electrode type and adjusts the defibrillation energy accordingly. At the back of the device, a set of children electrodes can be safely stored.
Don't forget CPR
Defibrillation is not enough. In order to keep bringing oxygen to the organs, the blood flow must be kept. This is the purpose of chest compressions, and the reason why it's important to do it right. The FRED PA-1 helps you to correctly perform chest compressions by indicating the right positioning and setting a regular rhythm (metronome) in order to achieve the highest efficiency possible.
We can also train your workplace or members of your local organisation, club or association when we deliver your defibrillator.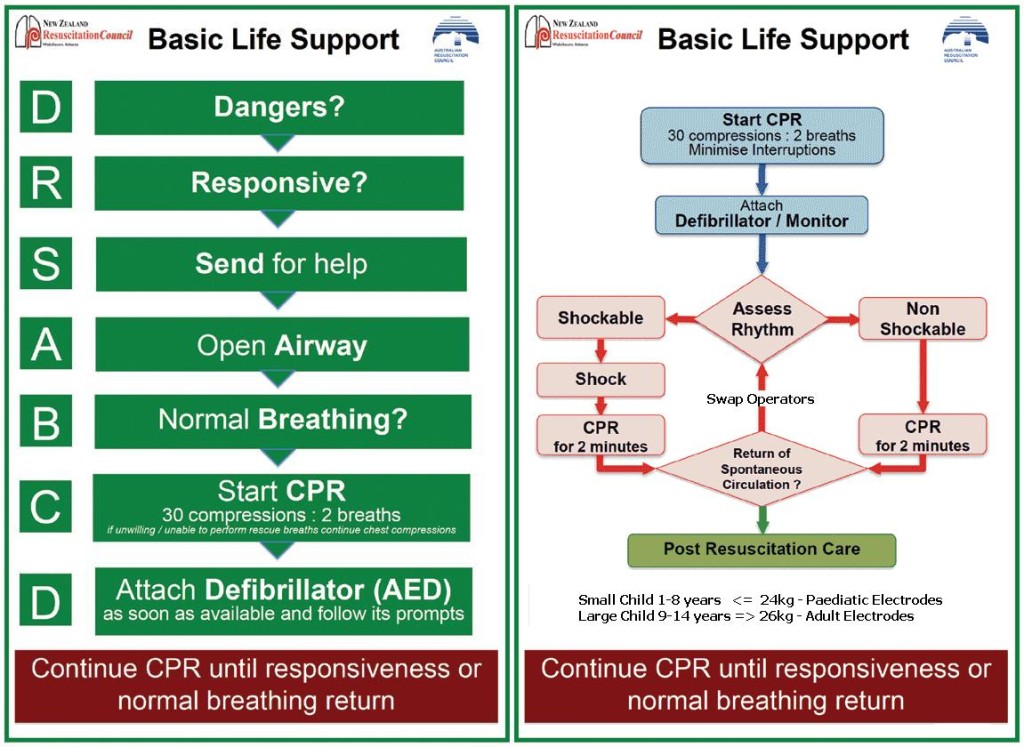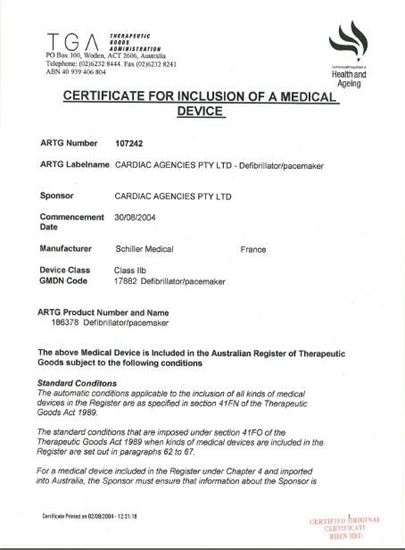 The FRED Easyport AED is the smallest non-implantable defibrillator in the world making it easy to take with you while cycling or horse riding.