Description
Built on the success of the innovative SMART Bandage, the SURVIVAL Snake Bite KIT was designed for the Australian environment, given the fact that the 10 most venomous snake species on the planet live in Australia, not to mention the world's deadliest arachnid, the funnel web spider.
Despite this, not many people know how to treat a snake bite, far less identify a poisonous snake, a mistake we cannot afford to make. It is probably fair to say that most Australians are proud of our venomous snakes and spiders. Indeed, most of us have a story or two to tell about a near miss with a snake or a spider. It seems we Aussies tend to have a bit of a 'she'll be right' attitude towards it all. But given how dangerous Australian snakes can be, surely we owe it to ourselves to learn as much as we can about first aid for snake and spider bites. Being prepared with both knowledge and equipment, not only provides peace of mind, it could also be the difference between life and death.
The evolution of the SURVIVAL Snake Bite KIT has arisen naturally, built on the success of the innovative SMART Bandage. Developed in conjunction with snake safety experts and educators, including Craig Adams from SSSafe.
Who needs this KIT?
Rural properties and anyone that loves the outdoors needs this KIT. It is the ideal companion for anyone who enjoys hiking, camping, exploring, caravanning, 4WD or mountain biking.
Portability and attachment system
Weighing in at 555 grams, there is no longer an excuse for not having a KIT with you whilst exploring the outdoors!
The KIT can be attached to your belt or backpack using the shoulder straps and Velcro, which allow for quick attachment and release in an emergency. The KIT is also compatible with Molle equipment.
Life Saving Components
This KIT contains 2 x SMART Bandages, giving you a total of 4 metres. There is a 61cm x 11cm splint to assist with immobilisation and an additional 1.8 metre crepe pressure bandage to secure the splint. The KIT also includes: gauze swabs, an emergency foil blanket, a permanent marker, gloves, snake bite instructions, CPR instructions and a snake bite register.
Carrying the correct equipment is essential in an emergency but knowing how to use it is equally as important. We strongly recommend seeking appropriate first aid training on how to respond to a snake or spider bite from an accredited trainer in your local area.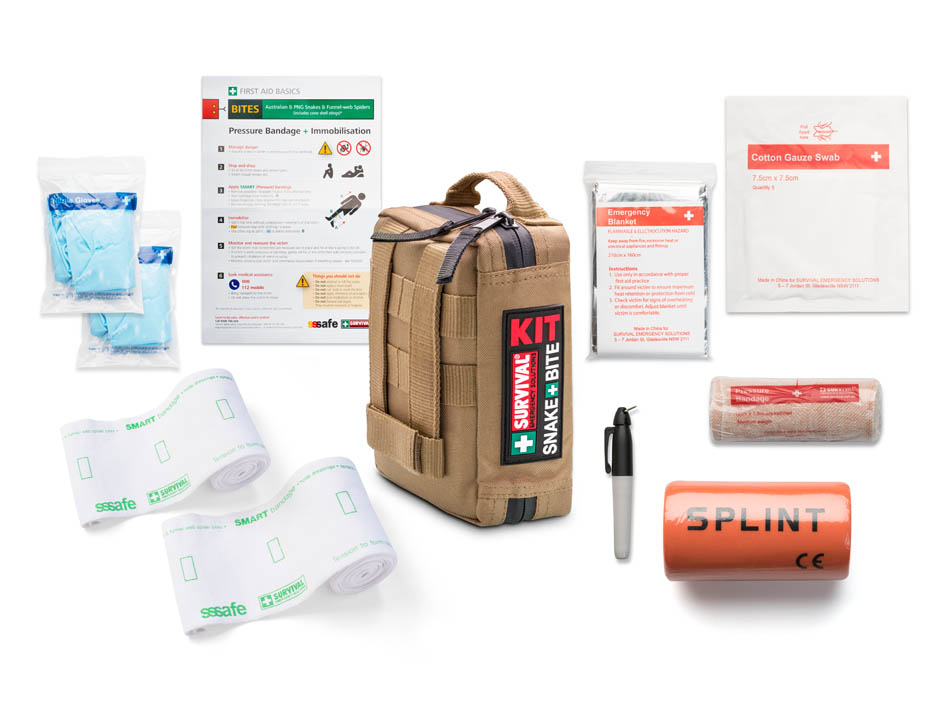 What type of bites does this kit cover?
Inside the KIT you will find all the necessary items to respond to Australian and Papua New Guinean snake bites, funnel web spider bites and cone shell stings by pressure bandage and immobilisation.
Please Note: For treatment of snake bites in other countries, check with your local authority.
Key features of the SURVIVAL Snake Bite KIT bag:
Material: 600D Oxford polyester
Benefits: Strong, durable, rugged, moisture resistant, easy to clean by wiping down with liquid disinfectant
Colour: Coyote Tan
Zipper: Water resistant zipper, with zinc alloy slider/pull that is easy to grasp and open with the 600D Oxford material extending from the pull tab
Attachment System: Molle system, and/or shoulder straps with clip on buttons that use Velcro to lock the straps in position. This allows you to attach the kit to your belt and quickly remove the kit without needing to take your belt off
Snake Bite KIT Components
1 x Cotton gauze swabs (3 per pack), sterile, 7.5cm x 7.5cm
1 x Emergency blanket, 2.1m x 1.6m in zip lock bag
1 x Mini black permanent marker
2 x Nitrile gloves, large
3 x Pressure bandages – 2 SMART Bandages, heavy duty, reuseable and washable, 10cm x 2m; 1 medium weight, 10cm x 1.8m
1 x Snake bite instruction card, includes bite record register and CPR instruction card
1 x Splint, 11cm (W) x 61cm (L)