Simple. Powerful. Lifesaving ™
The LIFEPAK CR2 Defibrillator is WiFi or optional cellular network–connected and allows you to self-manage your AED and check the location, battery status and even find out if there's an issue with it. Whether you have one or 100 AEDs, you'll have access to an online dashboard and receive alerts of any condition affecting the AED.
For each connected LIFEPAK CR2 device, you can: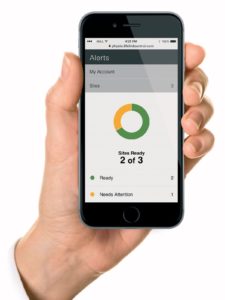 Remotely monitor readiness information
Locate on a map and detect location changes
Receive alerts of any situation affecting readiness such as battery status
Get notifications if batteries or electrodes are expiring or have expired
View a dashboard with the status of all connected AEDs*
Be alerted when an AED has been used
Send event data via WiFi to emergency responders en route
Automatically send event data and reports to hospital and medical caregivers
All without manual inspection
Features and Benefits
Continuous CPR increases survival rates
Every SCA response requires CPR. Every single one. Previously, CPR had to be interrupted for heart rhythm analysis, and older, competitive technologies require rescuers to pause for 10 seconds or more. Unfortunately, interrupting CPR adversely affects survival rates and the 2015 European Resuscitation Council (ERC) Guidelines recommend minimising pauses to increase the chance of a successful outcome.
While other AEDs may offer CPR feedback through the use of an accelerometer or additional tool, the CR2 provides the right amount of instruction and includes new cprINSIGHT™ analysis technology. Once CPR begins, cprINSIGHT technology automatically analyses and detects if a shock is needed. This significantly reduces pauses in chest compressions, even eliminating pauses if the rhythm is determined to be nonshockable. And more CPR means improved blood circulation and better odds of survival. The CR2 is the only AED that allows chest compressions during ECG rhythm analysis thereby reducing pauses between CPR and defibrillation.
In an AED comparison study, the CR2 helped lay responders deliver the highest overall CPR quality. If a shockable rhythm is detected, the CR2 delivers shocks with powerful escalating energy, with no judgement call required on the part of the user. Proven superior by competitive testing, the CR2 will keep the rescuer focused on what really matters—saving a life.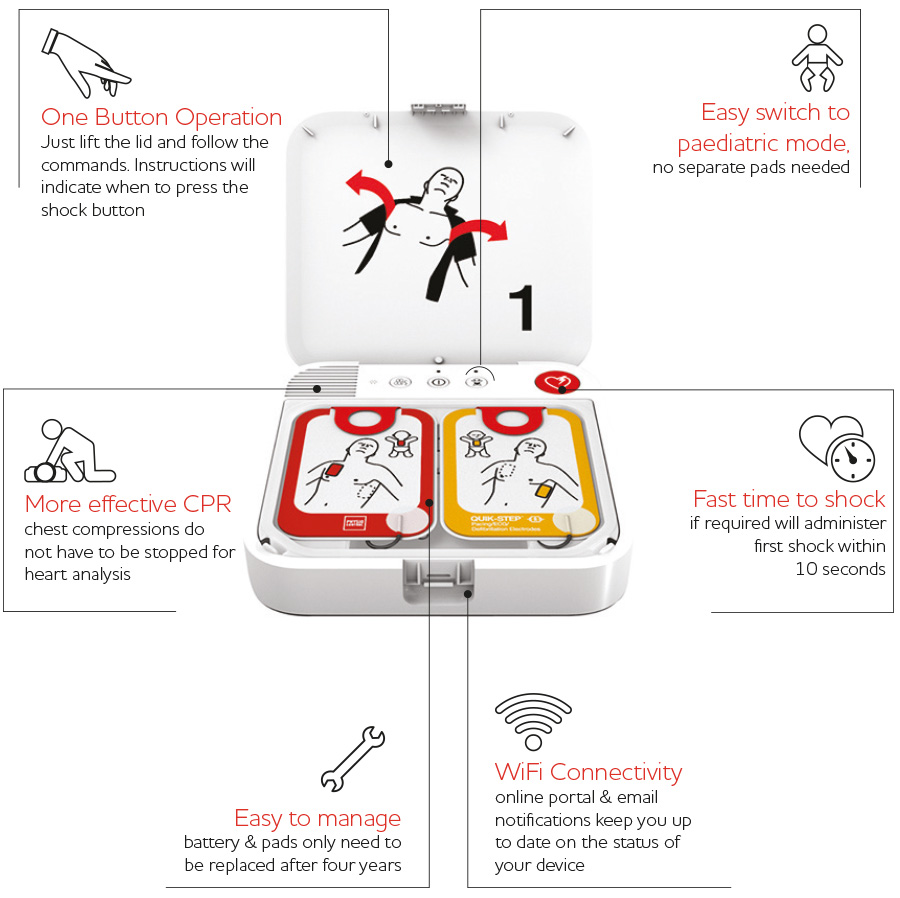 Designed for user confidence
For a minimally trained responder, intervening in an unfolding emergency can be intimidating. Responders need the easiest possible AED to instill confidence.
While other AEDs may be difficult to use or require users to stop CPR during analysis, the LIFEPAK CR2 defibrillator uses simple graphics, audible instructions and automated features to help users remain focused. We've removed all the guesswork with proven better results. The CR2 was rated easiest to use, easiest to hear and highest in overall user confidence by AED users.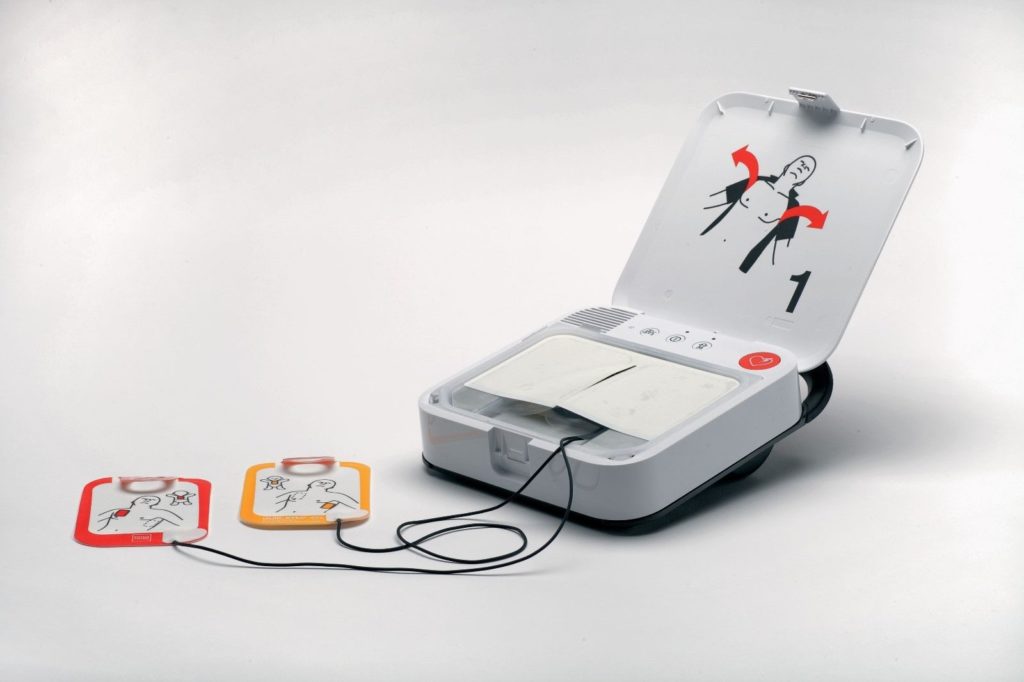 Saving a life can be easier than you think
Layered design
Layered design with easy to follow bold graphics. Both trained and untrained AED users clearly know how to begin.
QUIK-STEP™ electrodes
Peel directly off the base for faster placement.
cprINSIGHT analysis technology
Analyses for shockable rhythm during chest compressions with no need to pause.
Metronome and CPR coaching
Sets an effective pace and audibly guides users.
ClearVoice™ technology
Detects background noise and adjusts volume accordingly for clear instruction.
Highest available escalating energy
Up to 360J for more effective shocks as needed.
Bilingual
Toggle between two pre-set languages when using the device.
Child mode
Child mode delivers lower energy levels appropriate for young children without having to change electrodes.
LIFEPAK TOUGH™
IP55 rating for challenging environments.
8-year warranty
Backed by an 8-year warranty.
LIFELINKcentral AED Program Manager
Monitor AED programs by tracking AED status, sending patient data to emergency responders and hospitals, detecting AED locations and other tools.
8 year warranty
IP55 Dust and Moisture ingress protection
Metronome and CPR Coaching
Child Mode without changing electrodes
Wireless Connectivity for readiness and usage alerts
Optional 3G connection for areas with no WiFi coverage
Note: All EMR LIFEPAK AEDs (Defibrillators) are GST Exempt Under GST Act Schedule 3 and subsection 38-45(1) Exemption Code GSTE=B1. The LIFEPAK CR2 comes with a 8 Year (96 months) Warranty from the date of your order. Emergency Medical Response are a Authorised AERO Healthcare AU Pty Ltd reseller.
Defibrillator Specifications
Waveform: Biphasic Truncated Exponential with voltage and duration compensation for patient impedance.
Patient Impedance Range: 10 – 300 ohms
Energy Accuracy:
10% of the energy setting into 50 ohms
15% of the rated energy output into 25 – 175 ohms
Output Energy Sequence: Multiple levels, configurable from 150 joules to 360 joules.
Energy Default:
200J, 300J, 360J (adult)
50J, 75J, 90J (paediatric)
Shock Advisory System™: An ECG analysis system that advises whether a shock is appropriate; meets rhythm recognition criteria specified in IEC 60601-2-4.
cprINSIGHT™ Analysis Technology: Enables the defibrillator to analyse the patient's heart rhythm while CPR is being performed.
CPR Coaching: Instructions for adult and paediatric CPR, including feedback when no CPR is detected, rate and depth guidance, a metronome and instructions on hand placement.
Time to Shock at 360J after CPR (with cprINSIGHT enabled):
– Semi-Automatic: < 7 seconds
Charge Time: 0 seconds for first 150J or 200J shock (as device is pre-charged). With cprINSIGHT enabled, subsequent shocks will be charged during CPR and ready to shock at the end of the CPR period.