This course is a skill set combination course designed for child care workers containing the following units:

This unit of competency describes the skills and knowledge required to provide first aid response, life support, management of casualty(s), the incident and other first aiders, until the arrival of medical or other assistance and provide advance training in the use of auto injectors for the treatment of anaphylaxis and the advance treatments associated with Asthma.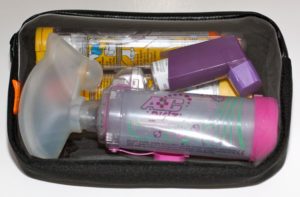 This course meets the Victoria State Government Education and Training Departmental guidelines and requirements of Ministerial Order 706 (MO706) for Primary and Secondary School staff (as determined by the principal) that need to attend the Course in First Aid Management of Anaphylaxis 22300 VIC (previously 22099VIC).
Course Requirements
There are no prerequisite, entry, work-placement, licencing or certification requirements for this course.
Students are not required to bring any materials or equipment with them to the course.
Students must provide proof of identity when they attend the practical session.
Award Issued:
Students who successfully complete this nationally recognised training will be awarded the statement of attainment from Allens Training for:
22282VIC Course in the Management of Asthma Risks and Emergencies in the Workplace
22300VIC Course in first aid management of anaphylaxis
Recertification Requirements:
It is recommended this unit be renewed every 3 years in line with industry standards.
Initial Course duration:
Full course: Completion of pre-course study plus 3 hours practical training
Refresher course: Completion pre-course study plus 3 hours practical training
Important information regarding course durations:
Course durations, as mentioned above, are reflective of group sizes of between 4 and 15 participants. If there are less students in a group, you may find course duration reduced by a maximum of 10%. If a class size exceeds 15 participants it may therefore also be necessary to increase course duration depending on the number of participants.
Pre course study options:
The following option is available for completing the pre-course study;
Students attending our flexible delivery combined Asthma and Anaphylaxis courses must complete both pre-course workbooks PRIOR to their practical session. As part of our contribution to the environment we offer an online workbook when completing our flexible delivery option.
You must take the evidence from your pre course study to the practical training session.
What does the course include?
Email copy of your certificate when competent
Web based verification system to authenticate your award
What are the LLN requirements for this course?
In order to meet competency for this unit, you will be required to meet the LLN requirements of the Training Package. You can find more information regarding our LLN support services here.
Do I need a USI before enrolling?
All participants must gain a Unique Student Identifier (USI) prior to enrolling in and attending their course. You can apply for your USI here. Please note that you will not receive a Statement of Attainment for your course until you have supplied your USI.
Where can this training be delivered?
The course requires training either at the workplace on-site, so students can develop skills consistent with the job environment, at a simulated workplace or in a classroom setting
What should I look for when choosing a training provider?
The Australian Skills Quality Authority (ASQA) has developed a fact sheet to help you to be fully informed about your decision to enrol into a course. This information can be found by clicking here
A copy of the Student Agreement should be read before enrolling in this course.
What are my rights and responsibilties as a student?
The Australian Skills Quality Authority (ASQA) requires that students be aware of their rights and responsibilities once they have selected their training provider. Your rights and responsibilities can be found in our Student Agreement that should be read BEFORE enrolling into any of our courses.
All students will be required to show proof of identification at the commencement of the course.
Where can I access a copy of the training package?
The 22300VIC training package can be accessed by clicking here and the 22282VIC training package can be accessed by clicking here
How will I be assessed for this course?
The following assessment tasks are required for this course:
Theory Questions consisting of 37 multiple choice and completing Risk and Individual Emergency Management Plans for Anaphylaxis and Asthma.
Simulated Practical Scenarios
What skills and knowledge will I get from this course?
22282VIC Course in the Management of Asthma Risks and Emergencies in the Workplace
Essential knowledge:
Composition and essential components of an Asthma Management Plan
Relevant workplace policies/procedures for the management of an asthma emergency
Guidelines of Asthma peak bodies
Risk management and minimisation strategies contextualised to the specific workplace environment
Environmental hazard identification and minimisation
Requirements in some workplaces for Police Checks and/or Working with Children Checks
State/Territory regulatory requirements for asthma management relevant to workplace contexts
Signs and symptoms of asthma – mild/moderate, severe and life-threatening
Potential consequences of an asthma episode
Common allergic and non-allergic asthma triggers
First aid principles and procedures for the emergency management of asthma; including individual Asthma Action Plans
Common asthma medication and equipment
Sources of medical assistance, such as: designated first aiders/first aid officers, general practitioners, ambulance
Workplace's debriefing policies/procedures
State/territory regulations, first aid codes of practice and workplace requirements for refresher training to maintain currency of competence
Essential skills:
Ability to:
Develop risk minimisation strategies for the emergency management of asthma in accordance with legislative, regulatory and workplace requirements
Plan for contingencies
Assess emergency situations
Control the situation according to established first aid principles prior to management of the asthma episode
Apply first aid skills in accordance with emergency response procedures and medical action plans
Convey the casualty's details to emergency services
Comply with the workplace's incident recording requirements
Respond appropriately to challenging situations recognising the psychological impacts of medical emergencies on individuals
Follow workplace debriefing policies/procedures
Contribute to the evaluation of responses to an incident in accordance with workplace policies and procedures
Maintain accurate records
22300VIC Course in first aid management of anaphylaxis
Skills: Part 1
Reassure the casualty in a caring and calm manner and make them comfortable using available resources
Apply first aid treatment for mild to moderate allergic reactions and anaphylaxis
Position the casualty in an appropriate position for treatment, in accordance with the ASCIA Action Plan for Anaphylaxis
Administer an adrenaline auto-injector correctly and promptly
Convey casualty's details to emergency services accurately
Complete incident/injury report forms
Skills: Part 2

The identities of the people at risk, including children
The triggers/allergens to avoid for mild to moderate reactions and anaphylaxis in individuals
Understanding of the ASCIA guidelines for treatment of anaphylaxis
Understanding of the relevant organisational policies and procedures
Understanding of the relevant industry legislation and policies
Mild to moderate allergic reactions and anaphylaxis and the potential consequences of the conditions
Knowledge: Part 1
The signs and symptoms associated with both mild to moderate allergic reactions and severe allergic reactions(anaphylaxis) and how to distinguish between them
The triggers/allergens which cause allergic reactions
First aid principles and procedures, including bringing medication to the casualty rather than moving them (unless it is necessary to remove them from an immediate danger, such as a beehive)
ARC Basic Life Support Flowchart information
If there is uncertainty, administer adrenaline as a priority before any other medications (e.g. Asthma reliever medication), as per ASCIA Action Plan for Anaphylaxis
Anaphylaxis emergency response procedures for the workplace
Requirements for replacement of the adrenaline auto-injector
Documentation requirements
Refresher training requirements for those undertaking this unit
Knowledge: Part 2
Prevention strategies and risk identification and minimisation for people at risk
The need to have the individual's ASCIA Action Plan for Anaphylaxis reviewed by a medical practitioner when the adrenaline auto-injector is replaced
The need to review individual anaphylaxis management plan at the start of each school year for school aged children, and otherwise annually, as per organisational procedures.
If someone is having all symptoms of Asthma but is not prescribed a puffer are they allowed to be given a puffer (Ventolin)?
Yes, anyone can use an asthma puffer, you can purchase Ventolin over the counter with no prescription. Ventolin is a very safe drug for anyone to use and the puffer treatment that is given by the ambulance in these cases is 250 times stronger than the Ventolin puffer.
Emergency Medical Response delivers nationally recognised training in partnership with, and under the auspices of, Allens Training Pty Ltd RTO 90909.