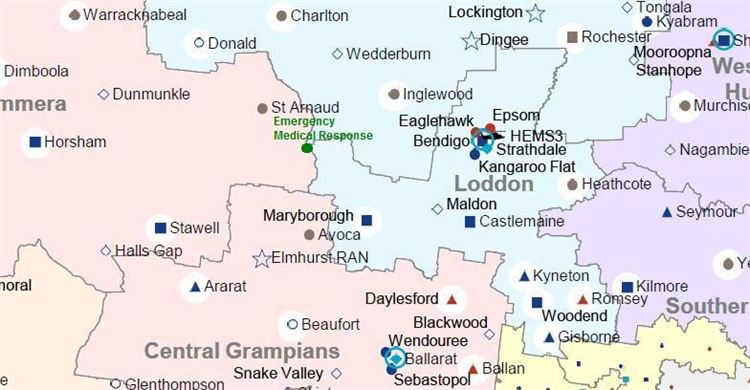 Sometimes we are asked, "Why are ambulance response times so long where Emergency Medical Response operates?", well it isn't because Paramedics are not doing their jobs. Nor is it because Rural Ambulance Victoria isn't doing their job. They do a great job, in difficult circumstances with the limited resources available to rural towns with small populations.
It simply comes down to the location of Dunolly, Dunluce, Mount Hooghly, Archdale Junction, Archdale, Dalyenong, Bealiba, Emu, Cochranes Creek, Goldsborough, Inkerman, Painswick, Moliagul, Murphys Creek, Tarnagulla and Waanyarra has in relation to the current Ambulance Stations. These areas are all located in a dead zone between all the current major Ambulance Stations.

Data recently released by the Heart Foundation shows the CENTRAL Goldfields Shire had the highest rate of heart attack in the state from 2007-08 to 2011-12, with an average of 17 heart attacks per 10,000 persons.
In a life threatening or time critical Medical Emergency please call: 000 or 112 from your mobile for an Ambulance. Then call: 0438 580 426 as soon as possible for FREE Pre-ambulance Emergency Care from your local Emergency Medical Technician EMT-i / BLS Medic (if available) while waiting for your Ambulance to arrive.
The Ambulance Victoria Stations marked on this map portion with a Blue Square have Multiple Paramedic Crews – ALS, while the filled in Grey Circles are Single Paramedic – ALS + ACO (On Call Night Shift). The Green Circle represents the approximate location of the Emergency Medical Response operations base in Bealiba. There is now another EMR Community Ambulance located at the Dunolly SES Unit on Broadway, Dunolly.
It is simply impossible due to the distance for an Ambulance to get to Bealiba within 20 minutes from any of the current Ambulance Stations in Maryborough, Avoca, St Arnaud, Inglewood or Bendigo. A call to ESTA on 000 normally takes about 4 minutes to complete and a page to be sent out to the responding unit.
In February 2013, it took nearly 40 minutes for three AV Ambulances and the HEMS3 (Helicopter Emergency Medical Service) to arrive after a car versus a tree single @+70km/hour vehicle car accident in Bealiba with three occupants with one having serious difficulty in breathing in the back seat due to fractures of their right seventh and eighth ribs, a partially deflated lung and a Lacerated Liver (with internal bleeding).